Epoxy Floors and Concrete Polishing in Toronto & GTA
Commercial and Industrial coatings Toronto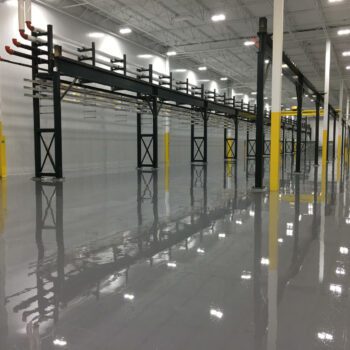 Applied Industrial Flooring Canada is the leading epoxy flooring Toronto contractor for industrial and commercial resinous floor installations in Toronto, Mississauga and the GTA. AIF is a designated master-applicator of the top industrial coatings suppliers across Canada such as Master Builders Solutions, Tremco, Stonhard and more, and have been installing epoxy coatings in the GTA and Toronto for over 45 years. We are expert installers of epoxy coatings, MMA, polyurethane coatings, up to thicker overlayments including mortars, troweled floors, and self-levelling concrete floors.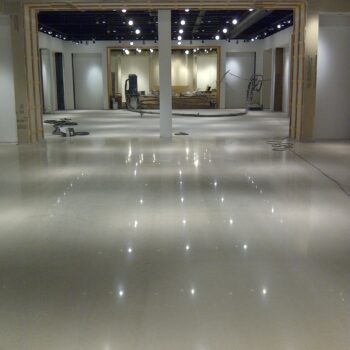 Concrete floor installation Toronto may include concrete polishing Toronto, dustproofing, floor sanding, adhesive removals and flooring surface preparation. If you are looking for polished concrete floors Toronto, AIF has an industrial floor system for your facilities' needs. Concrete Polishing is durable, cost-effective and long-lasting process that works by micro-buffing the top layer of concrete with our Diamond Grinding Polishing machine fleet, mechanically and chemically hardening the uppermost surface into a denser, less porous concrete surface that is dust-proof and very easy to clean. Our Diamond Grinding machines also provide concrete floor resurfacing Toronto. Concrete polishing Toronto is ideal for commercial spaces such as retail stores, shop floors We are the #1 commercial floor installers in Toronto and the GTA.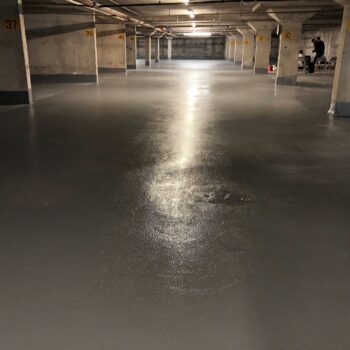 Applied Industrial Floors is one of the top certified premium installers of parking garage coatings, parking deck coating solutions, garage flooring Toronto and vehicular and pedestrian traffic membranes. Our urethane waterproofing membrane protects outdoor concrete surfaces where the concrete suffers frequent moisture exposure, high-traffic use, and chemical and oil exposure, which can create corrosion, rust or destruction of the structural rebar underneath. This coating is ideal for concrete rooftop pool decks, balconies, stadiums, condo-buildings, parking garages and parking decks.
Why Choose Applied Industrial Flooring in Toronto & GTA?
Applied Industrial Floors are the leading epoxy floor and concrete polishing contractors in Toronto & GTA, providing commercial and industrial concrete coatings and resinous flooring systems. We specialize in epoxy and urethane coatings, MMA flooring and concrete polishing in Toronto & GTA servicing the food and beverage, warehousing, retail, manufacturing, pharmaceutical, office buildings and other large facilities with advanced industrial flooring needs. These industries require seamless, easy to clean, anti-bacterial floors, electro-static discharging floors, abrasion-resistant floors and more. We also offer other commercial flooring and industrial solutions in Toronto, such as concrete polishing, traffic membranes and vehicular and pedestrian waterproofing coatings, concrete floor finishing, decorative concrete garage floor epoxy, self-levelling concrete, slab stabilization, waterproofing crack injections, containment coating linings, and more. AIF has been installing Industrial and Commercial Epoxy Flooring in the Toronto region for over 45 years servicing Brampton, Mississauga, Oakville, Vaughan, Markham Aurora and the surrounding Greater Toronto Area.
Flooring Services in Epoxy Floors and Concrete Polishing in Toronto & GTA