MAXIMUM MOTORSPORTS SHOWROOM FLOOR Installation
Project Name: Maximum Motorsports, Motorcycle Dealership Showroom Floor
Location: Ottawa, Ontario
Application: Maximum Motorsports wanted to turn their space with 40 year old Terrazzo flooring into a unique motorcycle showroom floor design with epoxy strength to create a fun, creative & client-facing floor within the dealership.
Materials Used:
Environment Exposure:
Pedestrian-traffic
Impact of motorcycle traffic
Possible Oil-exposure
Client-Facing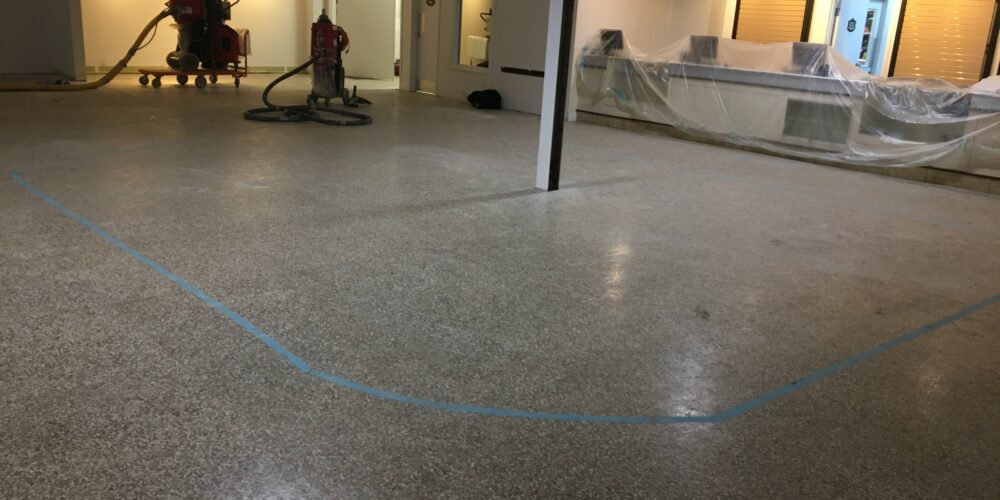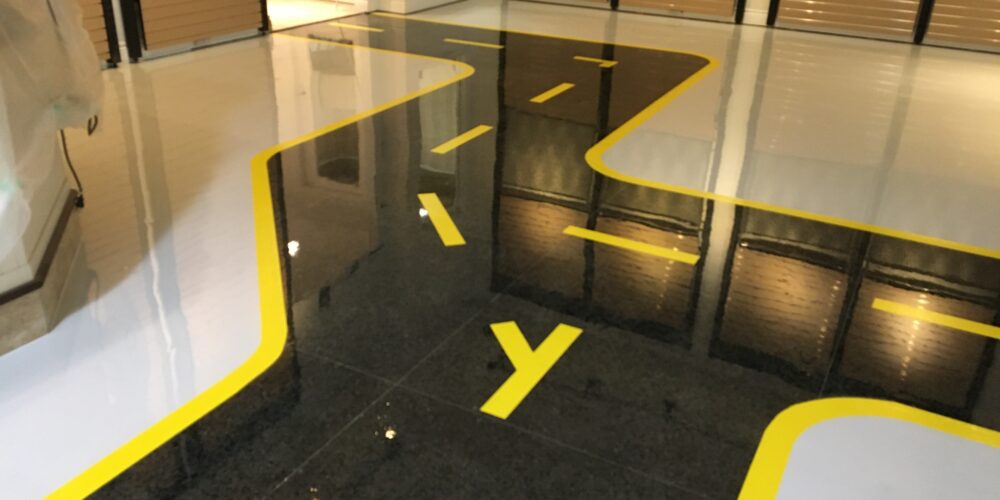 Having had worked with the Maximum Motorsports team in Ottawa in the past, the owners approached us to help them transform 2800 sq ft of old Terrazzo flooring in their space into a refreshed, fun and aesthetically pleasing motorcycle dealership showroom. 
MasterBuilders GP 500 was selected for its durability and diverse range of applications. This product allowed us to work with the design team to come up with the best solution for meeting our client's needs.
 The substrate was prepared by mechanical methods, strictly adhering to the manufacturer's written instructions. All imperfections were treated with an epoxy paste and allowed to cure to provide a smooth finished floor. Prior to beginning the coating installation, areas were masked off in between the different colours. The area was primed with Master Builders GP 500 to promote adhesion, followed by a second and final coat of GP500.
The layout of the lines was provided by the design team and we used GP500 as well for this application.
Applied is proud to share this was an extremely well executed finished product with incorporated design as per their architects' rendering.
This floor will last for a very long time, while helping the client direct foot traffic through the showroom in an aesthetically-pleasing manner and giving the space remark-worthy flair and fun. 
Learn more about Applied's concrete Epoxy flooring installations here.